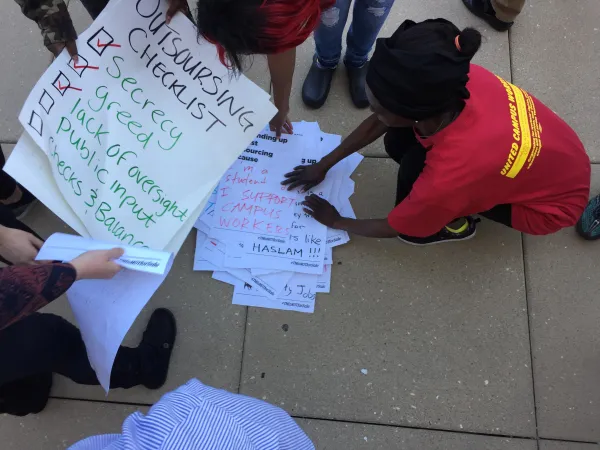 #TNISNOTFORSALE: FIGHTING PRIVATIZATION
We fight tirelessly to defend our public institutions and jobs from privatization. Beginning in 2015, we have been leading #TNisNOTforSale, a campaign to protect thousands of facilities and building services jobs across Tennessee from the largest outsourcing scheme in our state's history. All of the University of Tennessee system "opted-out," and we continue to fight on the other campuses. In our work, we effectively forced the state to delay its plan by years, provide for an "opt-out" choice for campuses, and guarantee employment and benefits to anyone who may be outsourced. By building a coalition of a majority of state legislators and community allies, we've become the leading voice for public services--and will continue to use that voice to keep our jobs safe from privatization.
LIVING WAGE FOR CAMPUS WORKERS: REAL RAISES & ECONOMIC JUSTICE
A full time job should keep you out of poverty--not in it. In 2011, 2012 and 2013, we successfully lobbied for across-the-board raises, including raise minimums that would make a difference for the people making the least. And in 2014, both UTK and the University of Memphis announced raises in their minimum base pay--a major victory in our campaign for a living wage.
ADJUNCTS UNITED
Our higher education system increasingly relies on the low-wage, high-intensity adjunct system. UCW is organizing adjuncts across departments and campuses to fight for raises, fair treatment, and stable employment. 
INDEPENDENT VOICE ON THE JOB
We make sure we're heard by decision makers at the campus and state levels. We lobby the Tennessee General Assembly in one of the most successful and advanced grassroots programs in the state, with years of experience in mobilizing our members and allies to visit Nashville and home district offices. Our members have spoken in front of both the Board of Regents and Board of Trustees to advocate for our interests, including stopping outsourcing, fair raise plans, ending forced overtime for custodial workers, and health and safety protections.
JOB PROTECTIONS
We have successfully won campaigns to ensure overtime pay for agricultural workers at UTK, hepatitis-B vaccinations and other health and safety measures for housekeepers, and supervisor bullying of night shift employees. We've also helped represent our members in dozens of grievances and HR hearings.
FAIRNESS & EQUITY
We've stood up for civil rights, diversity, and equity on our campuses--leading and joining campaigns for benefit equality, to preserve diversity staffing and programming, and closing the gender and racial pay gap.
PRESERVING, PROTECTING, EXPANDING BENEFITS
We've helped win health insurance benefits for graduate employees at both UTK and UM, acted as watchdogs in pension reform, and in 2014 stopped the privatization of social security benefits at UM.