Leadership & Staff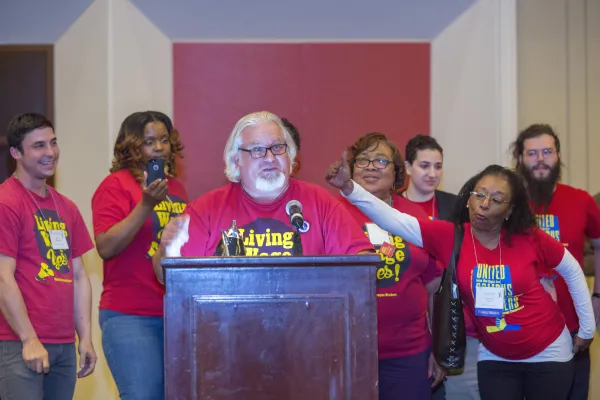 United Campus Workers is a member-led, democratic organization. Our union belongs to us! Our leadership is made of campus workers from campuses across Tennessee, and we employee two full-time organizers and two part-time staff. The following leaders were elected by a vote of membership in Fall 2020 and began their terms in January 2021.
Executive Board
The Executive Board is the key decision making body. It consists of our core union officers:
President: Anne Langendorfer, Lecturer at UTK

Executive Vice President: Shukura Umi, Graduate Worker at the University of Memphis

Secretary: Clarisa Castillo, Graduate Worker at UTK

Treasurer: Kathryn Hicks, Associate Professor at the University of Memphis

East TN representative: Bill Taylor, Assistant Professor at Pellissippi State Community College

Middle TN representative: Lori Danley, Writing Center Teacher at Tennessee State University

West TN representative: Tony Patton, Electrician at UTHSC

Policy & Campaign Committee Co-Chairs: Jon Shefner, Professor at UTK and Clay Trainum, Library Staff at MTSU
Policy & Campaign Committee
The PCC is the largest elected representative body of our union, and is empowered to develop our political program and strategy, and lead our campaigns. The PCC consists of chapter and caucus chairs, regional delegates, and additional delegates proportional to chapter size.
PCC Co-Chairs: 

Jon Shefner, Professor at UTK and Clay Trainum, Library Staff at MTSU

UTK Chapter VP: Mia Romano

MTSU Chapter VP: Kari Neely

Memphis Chapter VP: Meghan Cullen

Additional UTK Delegates: Sara Ritchey, Katie Hodges-Kluck, Sam Goodman, Jessica Westerhold, Jon Shefner

UTC Caucus Chair: Eddie Brudney

ETSU Caucus Chair: Dennis Prater

PSCC Caucus Chair: Robyn James

TTU Caucus Chair: Rachel Wingo

Chatt State Caucus Chair: Paige Elliot

East TN regional delegates: Matthew Donlevy, Ethan Mills

Middle TN regional delegates: Clay Trainum, Michael Principe

West TN regional delegates: 2 open positions
Don't see your campus listed? There are open positions at each campus for members to serve on this body. Contact the organizer in your region (below) if you are interested in this role!
OUR STAFF
Our union employs three organizers to support the membership in each region of the state. Please contact the organizer in your region to get involved in current organizing campaigns or with questions about your membership.
East TN Organizer: Allison Becha organizes at UTK, Pellissippi State, ETSU, Chatt State, and other campuses in the East TN region. Contact her at allison@ucw-cwa.org.
Middle TN Organizer: Dana Smith organizes at MTSU, APSU, TSU, TTU, UTC, and elsewhere in the Middle TN region. Contact her at dana@ucw-cwa.org.
West TN Organizer: Justin Davis organizes at the University of Memphis, UTHSC, LeMoyne Owen College, and Southwest Community College. Contact him at justin@ucw-cwa.org.