News
Vaccinate So We Can Educate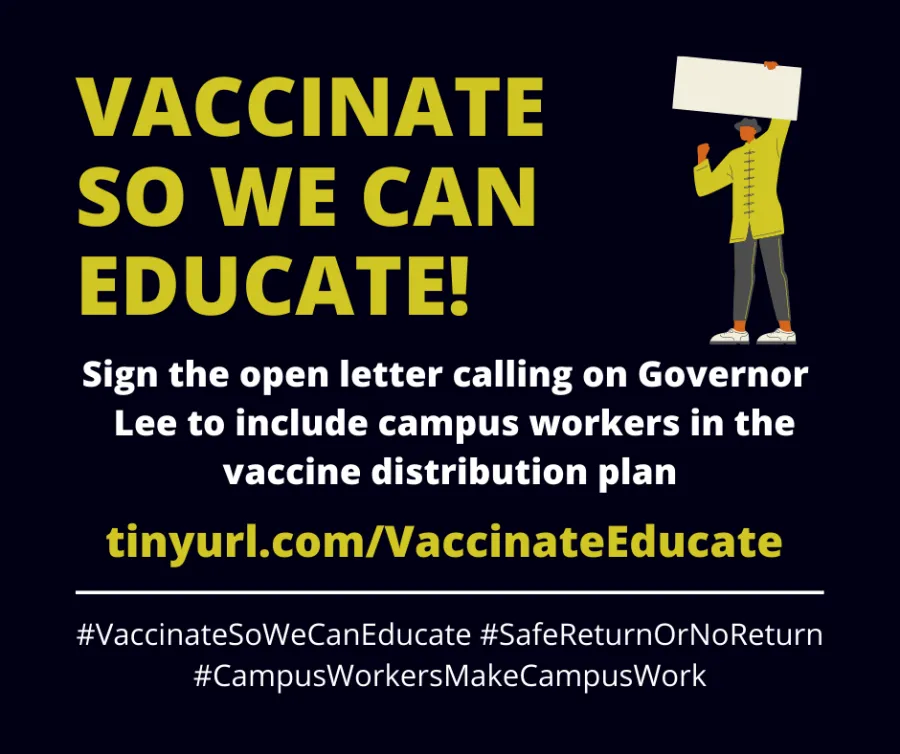 UCW has launched an open letter calling on Governor Bill Lee to include higher education employees in COVID-19 vaccine distribution plans. 
Campus administrations are eager to reinstate 100% face-to-face classes, regardless of the risk to the students, faculty, and staff involved. We know that if campuses are required to reopen, campus workers must be prioritized for vaccination access, or this reopening will be a catastrophe. In fact, our neighboring states of Alabama, Arkansas, Georgia, Kentucky, Mississippi, Missouri, North Carolina, and Virginia have already prioritized higher education campus workers in vaccine distribution phases.
Staff and faculty are already on campus, risking their health, without a vaccine or adequate safety protections on a daily basis. We need action for campus worker safety. Sign the open letter and add your name alongside higher education employees across the state calling for access to the COVID-19 vaccine!
SIGN NOW: https://forms.gle/811nkt3ejFAvwGqY6
Cameron Brooks, Presente!
UTK Graduate Workers Win Stipend Increases
RSVP for UCW's 2023 Statewide Convention