News
UCW Wins $15 Minimum Wage at UTC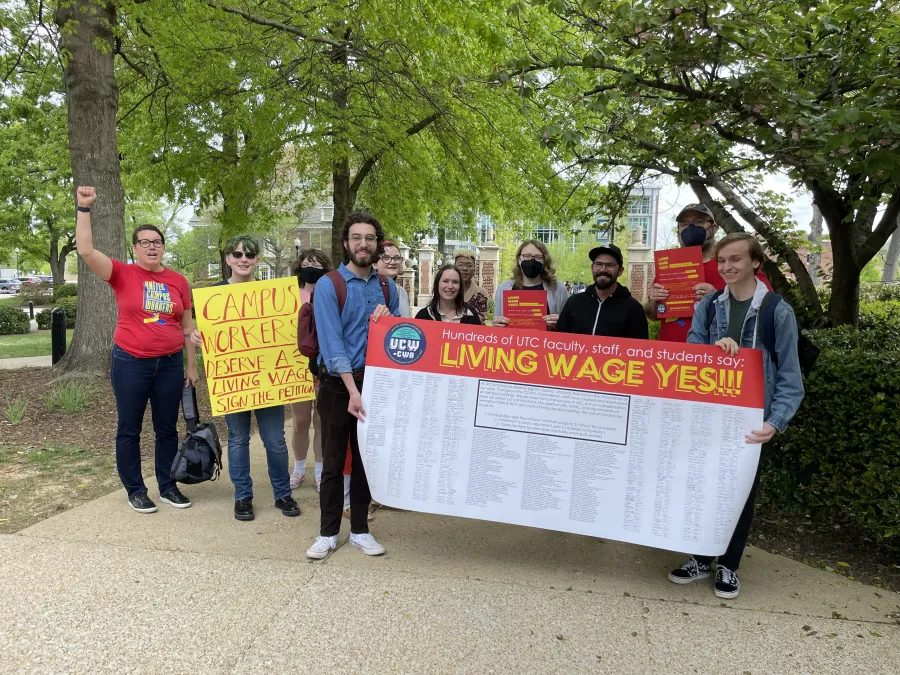 Chattanooga, TN - Following more than a year of sustained campaigning by United Campus Workers (UCW) at the University of Tennessee at Chattanooga (UTC), the university has implemented a $15/hour minimum wage for the coming fiscal year. As UTC lagged behind other universities like UTK, UT Health Science Center, and the University of Memphis, UCW members fought to make sure UTC workers were not forgotten. The campaign included a petition signed by over 500 students and workers demanding salary increases and a plan to address salary compression that was delivered to UTC Chancellor Steve Angle; a Labor Day Rally in September 2022 where workers and community leaders spoke out to demand the university pay a living wage; and card-writing campaigns with campus members directly advocating for positive change. 
"This represents a huge step in the right direction," said one UCW member who asked not to be named for fear of retaliation. "It's not enough, but it's a start, and it shows what we can do if we work together." The new floor will be $15 per hour, meaning that approximately 60 full-time workers will see an immediate raise of up to $2.00/hour, while dozens more will see smaller increases based on their current pay grade and other factors like time of service. Additionally, the plan begins to address salary compression, another key UCW demand. The new salaries will take effect with the start of the next fiscal year on July 1, 2023. 
Other campus community members note that the raise, while a positive development, does not address serious concerns among other groups of workers. In particular, student workers are exempt from the new measures, meaning that their salaries remain at the discretion of the individual units that employ them. Some student workers on campus make as little as $7.25/hour. David Massey, a student worker on campus, stated "it's not fair that students are not included in the $15/hour minimum wage," given that the costs of tuition and living expenses continue to rise. Among campus workers who will see an immediate increase, some, like facilities worker Teresa Ray, expressed their appreciation: "I really just want to thank [Chancellor Steven Angle] for listening." Others, however, noted that there is still work to be done as the new minimum wage still falls short of what's needed to provide for a family. One custodial worker who asked to remain anonymous explained: "They [UTC's Executive Leadership Team] don't walk in our shoes. They don't know that struggle and [don't] know that $15 really is not enough."
UCW celebrates this victory to improve the pay of campus workers, and looks forward to continuing to work with UTC administration to make the university the best possible environment for students and employees.
###
United Campus Workers - Communications Workers of America Local 3865 is Tennessee's higher education union, comprising over 2,200 faculty and staff across the state. UCW organizes for economic justice and democracy on campus and across Tennessee. More information at www.ucw-cwa.org.
Cameron Brooks, Presente!
UTK Graduate Workers Win Stipend Increases
RSVP for UCW's 2023 Statewide Convention