News
MTSU UCW Chapter Distributes Free N95s; Calls on Admin to do More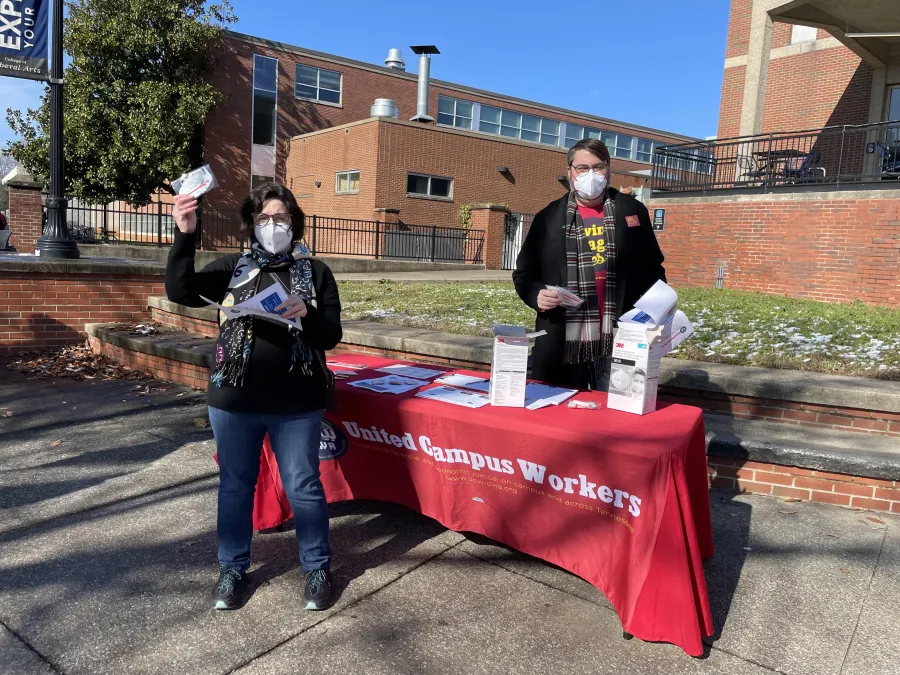 Murfreesboro, TN - As students return to campus with no COVID safety measures in place during the omicron surge, members of United Campus Workers distributed free N95 masks at MTSU on Tuesday January 18th.
President McPhee and the MTSU administration have consistently asserted that the burden of preventing the spread of COVID rests on individuals to wear masks and get vaccinated. UCW stands firm that personal responsibility alone cannot end a global pandemic. As an institution, MTSU has the resources, capacity, and duty to implement safety measures to protect students, faculty, and staff from the spread of the virus.
Despite the inability to mandate masks per the state law signed by Governor Bill Lee last November, UCW calls upon President Sydney McPhee and MTSU administrators to take other measures to keep the campus community safe such as providing high quality N95 or KN95 masks to all students and employees for free, expanding COVID testing and tracing on campus, and allowing flexible remote work and class options during surges. Those claiming to be committed to student excellence must acknowledge safety and health as two of the most important components of their promise.
MTSU has received $101,632,574 in federal Higher Education Emergency Relief Funds. 
Cameron Brooks, Presente!
UTK Graduate Workers Win Stipend Increases
RSVP for UCW's 2023 Statewide Convention