News
2019 Convention Report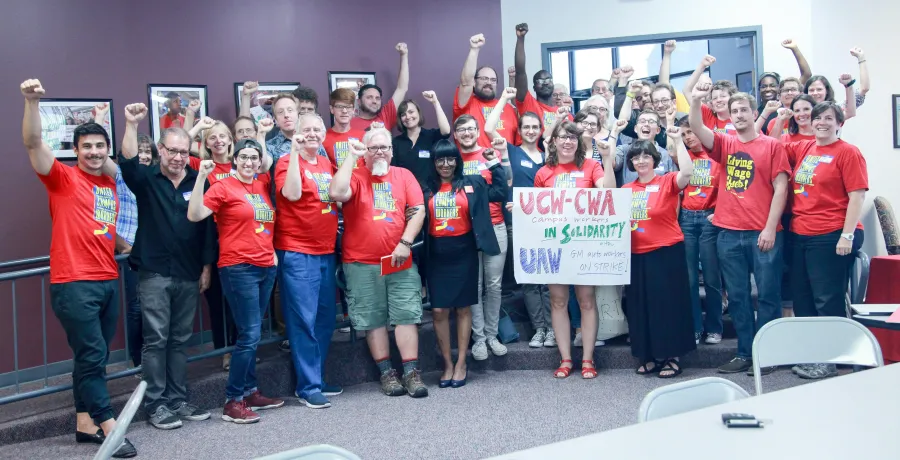 2019 Convention Report: UCW on the Offense
Thank you to everyone who made the trip to Nashville for our Statewide Convention on September 28! Representatives from campuses all across Tennessee met to share their work and strategize about the future of UCW. We left fired up to grow the size and influence of our union and take on our powerful foes in Tennessee. Please read the report below for more information about what happened, and how you can get involved. Solidarity forever!
2019 STATEWIDE CONVENTION REPORT
Just One Campaign
Our State Convention was the official kickoff of the Just One Campaign. The lifeblood of our union is its membership. The Just One Campaign is empowering each member to identify one new person to join the ranks of UCW to share our challenges, goals, and victories. The overall goal of the Just One Campaign is to add 200 new Members by Lobby Day 2020. Each Chapter will have an organizing training to prepare you with skills, talking points, and strategies to assist you in achieving your Just One goal. Know someone who needs to join? Ask them to fill out the online membership form, or contact the organizer in your area for paper materials. Join the fight for JUSTice for everyONE!
Stewards Program
The UCW Stewards Program is officially launching! Stewards are co-workers who help us stay connected with our union. They are trained to provide grievance and conflict resolution support, keep us informed about workplace issues, and connect us to UCW legislative and organizing campaigns. Applications to become a Steward open October 18. Please look for a state-wide email with more details.
Strategic Plan
At convention, UCW members adopted "Campus Workers on the Offense" a strategic plan to guide our work through 2022. You can review the plan here. This living document focuses on what it will take to build a fighting union under the broad themes of Organizing, Communications, Legislative & Political Work, Coalition Building, and Leadership Development. A volunteer committee will work to incorporate several proposed edits and additions to the plan before UCW's Policy and Campaigns Committee (PCC) discusses the plan on its next conference call (October 17 at 5:30 pm CT/6:30 pm ET). If you would like to suggest edits and additions for the PCC to consider, or if you would like to join the discussion on the next PCC call, please contact our Secretary, Jeffrey Lichtenstein at jeffrey.lictenstein@gmail.com. 
Contingent Faculty Organizing Meet-Up
Contingent faculty had a great meeting during the lunch break at Convention. A group made up of Graduate Teaching Assistants, Graduate Research Assistants, Full-time Lecturers, and Part-Time Lecturers discussed the things that we have in common and the things we're fighting for. We talked about the toll of instability which we share, uncertain of our assignments from term to term and the ways in which lecturers and grad students, who teach many of the same classes, can be pitted against each other. This we concluded, can be a source of strength rather than weakness. When grad workers and lecturers stand together in solidarity we have power because our departments and universities depend on us. We talked specifically about the UTK campaign for a fair wage and the fights at U of M and MTSU for health insurance for grad workers. We were invigorated by the chance to get to know each other and left energized for the fights ahead! Please contact Anne Langendorfer at annetl@gmail.com if you are interested in joining these efforts.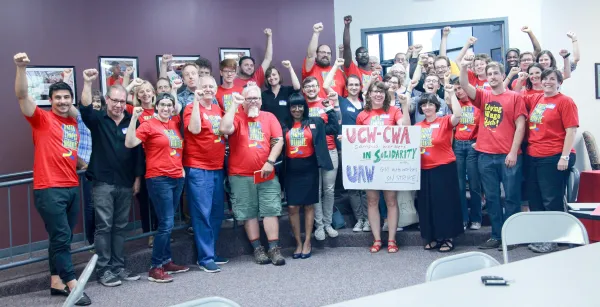 Committee Reports
At our 2018 Convention, our union formalized our statewide committees, and set about making them work. At this year's convention, our three active statewide committees gave reports on their activities from the past year. Our Legislative and Political Action Committee (LPAC), chaired by UTK member Tom Anderson, reported on our efforts this past year in the Tennessee General Assembly. He reported that our bills on fair pay raises and adjunct pay did not proceed as we would have liked, but that we will come back in January better prepared to promote legislation aimed at addressing the crisis of adjunct pay. Civil Rights and Equity Committee members Lisa Moss and Marlon Carter detailed the work that committee in responding to white supremacist presence on our campuses as well as wage disparities found across the state. UTC member Jaclyn Michael and West TN organizer Jayanni Webster presented the work of Gender Equity Committee, a "Know Your Rights" guide for different campuses that the committee has been working to develop. Once completed, these guides will be available on UCW's website. All the committees encouraged those in attendance to join in the work. Those interested in the LPAC should contact Tom Anderson at tom.anderson3865@gmail.com, those interested in the CREC should contact Lisa Moss eamoss@live.com, and those interested in the GEC should contact Jaclyn Michael at jaclyn.michael@gmail.com
 --
Ed McDaniel
President, United Campus Workers
Cameron Brooks, Presente!
UTK Graduate Workers Win Stipend Increases
RSVP for UCW's 2023 Statewide Convention