News
$15 an hour by 2020 is possible at the University of Memphis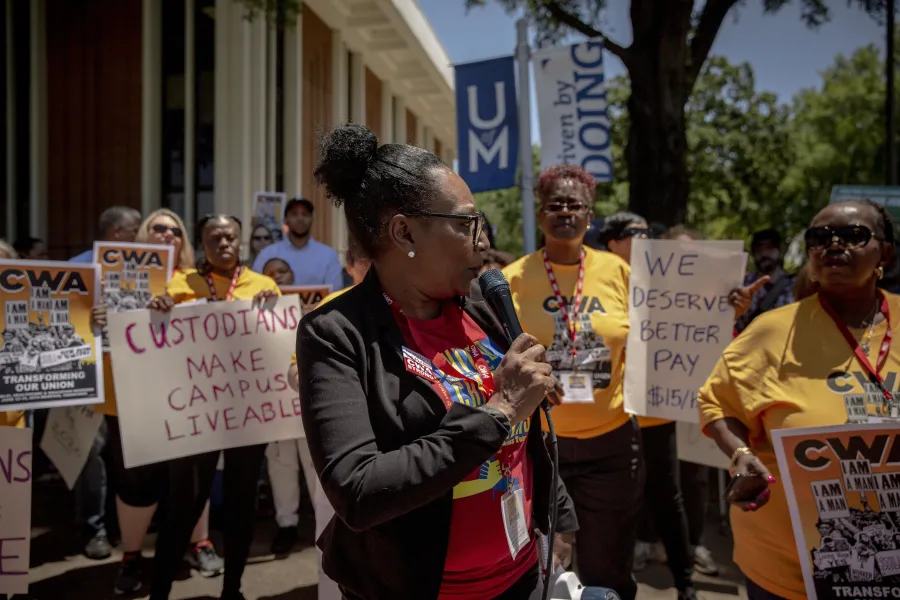 As Shelby County Mayor Lee Harris brought renewed attention to the low wages of campus workers on July 8,, President Rudd finally released a gradual timeline announcing that he plans to raise minimum pay for employees at the University of Memphis to $15 per hour over two years. United Campus Workers, while pleased there is finally a plan with a timeline, believes that the 330+ workers at the University living under the poverty line need $15 per hour by 2020.  
The lack of a living wage has been a longstanding issue at the University of Memphis. Despite countless requests by many stakeholders, President Rudd has never given formal numbers or a timeframe for implementing $15 per hour until now. Instead, the University of Memphis administration has ignored numerous calls for a living wage for 7 1/2 years, including a joint resolution from the University of Memphis Staff and Faculty Senates, a resolution from the Shelby County Commission, and public protests for a living wage by custodians. 
For more than 7 ½ years, facilities workers, with support from other staff and faculty, have written postcards and requested meetings with the President to signal they desperately need better pay. Many of these same workers have lobbied the state legislature in Nashville for more funding for higher education in hopes that it would help support fairer raises while still allowing the University to meet its essential financial needs.
Not only did the University of Memphis ignore these efforts, in their June 2019 Board of Trustees meeting they touted that workers "already make $16/hour if you count their benefits." Yet under President Rudd, pay inequity has increased at the University for women and Black employees. Across job categories, of all the workers at the university making less than $30k, 63% are women and 78% are Black. Black employees at the University of Memphis have a median salary that is 64% of their white counterparts. In dollar terms, the median salary for Black employees is $21,859 less than the white-employee median. Pay inequities by race are the most extreme for those that have been with the institution the longest such as custodial staff.
These numbers should encourage everyone in the city of Memphis not only to ask questions, but more importantly ask for faster implementation of $15 per hour. The truth of the matter is this: the total amount set aside for raises for UofM was $4,250,000 in 2019. Not only did the University have the money this year for a $15 per hour increase, they also would have had approximately $1.75 million remaining to begin addressing compression issues, faculty pay, and other extreme pay disparities. 
Custodians, landscapers, floor techs, and maintenance workers are asking for nothing more than what they are owed and what is fair in today's economy. Because budgets are moral documents, timelines are not a question of ability, but simply of priorities. It should be the moral and economic obligation of the University of Memphis to pursue $15 per hour by 2020. 
 ###
See related coverage:
July 8, 2019: "U of M custodians say they are still waiting to see $15 minimum wage plan." Commerical Appeal.
July 10, 2019: "UofM accepting $1M grant in exchange for raising wages wouldn't affect accreditation."  Fox 13 Memphis.
Cameron Brooks, Presente!
UTK Graduate Workers Win Stipend Increases
RSVP for UCW's 2023 Statewide Convention