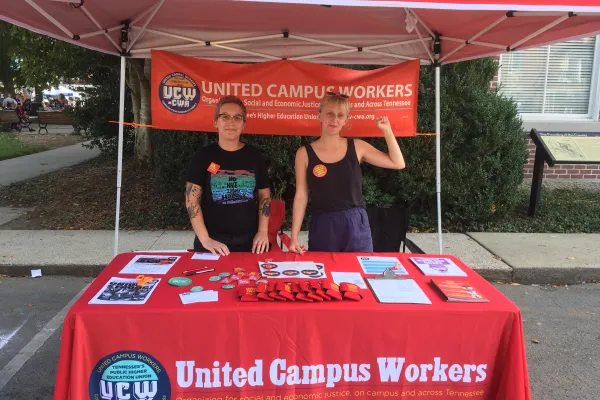 UCW has a number of committees to help members get involved in campaigns and issues they're passionate about. Check them out below, and contact the chair to join.
Legislative & Political Action Committee
Our LPAC coordinates our legislative and political efforts to support legislation and candidates that advance living wages, public education, and workers rights. We have statewide conference calls twice per month.
Chair: Tom Anderson, UTK, tom.anderson3865@gmail.com
CIvil Rights and Equity Committee
Join UCW's Civil Rights and Equity Committee! We are working to broaden and deepen the union's work for racial justice and civil rights on our campuses. This year our focus is on the racial wage gap, and fighting for a fair and equitable wage for ALL workers. We have a statewide call once per month.
Contact Eli Stanfield, eli@ucw-cwa.org to join.
Gender Equity Committee
The GEC's mission is to advance workplace equity and justice for all genders in higher education. Through education, organizing, and legislation we aim to shape campus cultures and policies so that employees have a voice and decision-making power around issues like pay equity, harassment, and job security. We have statewide conference calls twice per month. Contact our chairs to join!
East TN Chair: Allie Cohn, UTK, alliebcohn@gmail.com
Middle TN Chair: Jayme Brunson, MTSU, jayme.n.brunson@gmail.com
West TN Chair: open - reach out to us if you're interested!